Why charge for Botox by the area instead of by the unit?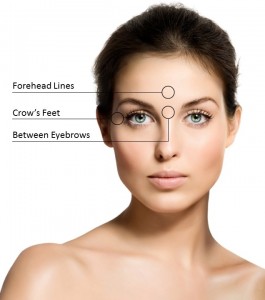 Botox is a treatment that is injected into muscles to temporarily treat moderate to deep wrinkles, generally around the forehead and eyes. Providers charge for Botox in one of two different ways: by the unit or by the area. While some people may think that charging by the unit is more fair there are several reasons why we choose to charge by the area at NOVA Plastic Surgery.
There are three different places that we treat with Botox Cosmetic at NOVA Plastic Surgery: the forehead, in between the brows, and the crows feet around the eyes. On average, each of these places requires about 10 units of Botox. At our office, for one area the patient can choose two of those places listed above. So for the price of one area, you can have your forehead and in between the eyebrows treated, your forehead and crows feet treated, or in between the eyebrows and crows feet. If you want all three treated, it would be considered two areas. This means that one area at our office is approximately equal to 20 units, and two areas is approximately 30 units.
While 10 units of Botox is average for each of these places, patients may need more if their wrinkles are deeper. This is the benefit of charging by the area. We have a set price for one area of Botox, so if your wrinkles require a little extra, you will not be surprised with an extra charge when you go to check out. You will know the cost of your Botox Cosmetic treatment before you even get injected.
Even though we charge by the area instead of the unit, our prices break down to be competitive with other plastic surgeons in the area. One area here with our Physician Assistant is $300. Breaking that price down to ~20 units per area means we charge approximately $15 per unit. Two areas (~30 units) costs $450 with our Physician Assistant which is still approximately $15 per unit. The bonus is that if you require more Botox for your deeper winkles, it will not cost you any extra.
Charging by the area makes it easier for everyone the patient, the provider, and the staff at the office. Keeping track of how many units are injected and making sure that the staff knows how much to charge can be a pain. The provider wants the patient to get the best result possible, so its easier for them to have the freedom to inject however many units necessary without having to check in with the patient about the price increase. Lastly, patients prefer to know how much their treatment is going to cost up front. For these reasons, NOVA Plastic Surgery charges for Botox Cosmetic by the area instead of by the unit.
If you have any more questions about the difference between areas here at NOVA Plastic Surgery or would like to schedule your appointment, please feel free to call our office at 703-574-2588. Also dont forget to register for Brilliant Distinctions to receive double points on Botox, Juvederm, or Latisse until August 28th.