---
EltaMD sunscreens help prevent sunburn and decrease the risk of skin cancer and early skin aging caused by the sun, when used with other sun protection measures. EltaMD sunscreens are formulated with transparent zinc oxide and are noncomedogenic, sensitivity-free, fragrance-free and paraben-free.
Guarding your skin from the sun is the first step in maintaining a youthful look. Read our blog on "What is the best sunscreen?"  written by our PA-C  Sherri Anderson to learn more about protecting your skin and our EltaMD line!
The EltaMD products listed below are available at NOVA Plastic Surgery.
---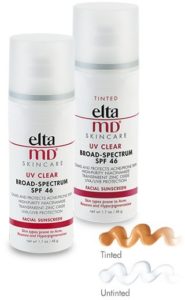 $30.00 non-tint/ $28.80 tint
Oil-free EltaMD UV Clear helps calm and protect sensitive skin types prone to breakouts, rosacea and discoloration. Very lightweight and silky, it may be worn with makeup or alone.
---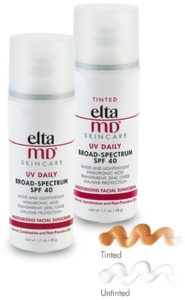 $26.00 non-tint/ $28.00 tint
Serious UV protection and superior hydration join forces in this sheer facial sunscreen. EltaMD UV Daily has Hyaluronic Acid to boost moisture retention and diminish fine lines. This lightweight moisturizer with UV protection can be worn alone or under makeup. Choose from tinted and non-tinted formulas for use every day.
---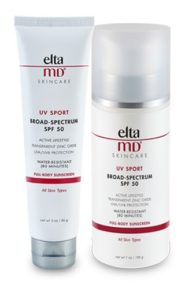 $22.00
This sunscreen is great for swimmers. UV Sport is water-resistant so it won't rinse off in water or drip into your eyes and sting when you sweat.
---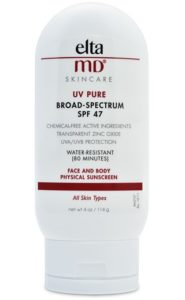 $24.00
Ideal for children and adults, the gentle formula glides on wet or dry skin and rubs in quickly. UV Pure is formulated with purely physical active ingredients which are photostable.
---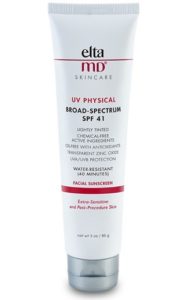 $30.00 tinted
A lightly tinted, oil-free sun protection with just a touch of color. This chemical-free natural mineral sunscreen has antioxidants to neutralize free radicals. Water-resistant UV Physical withstands water, humidity and perspiration.
---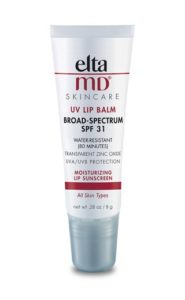 $10.00
A creamy, long-lasting moisturizing sunscreen that soothes and protects dry, chapped and sun-exposed lips.