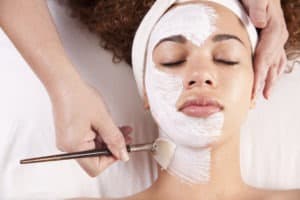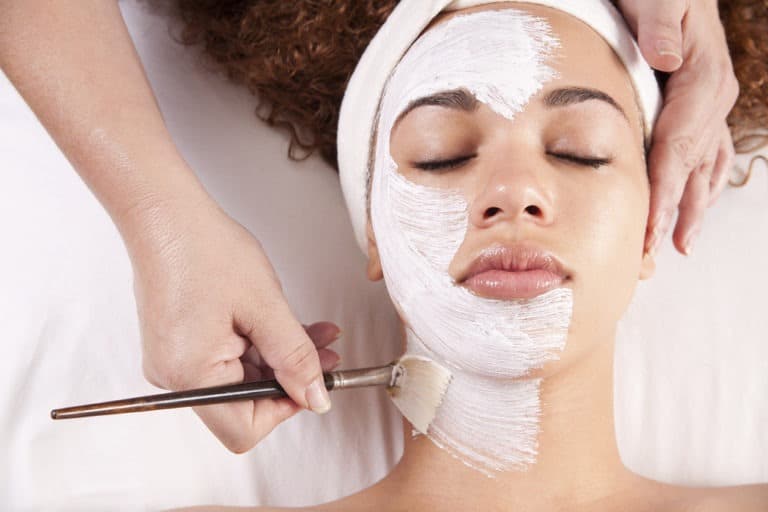 Facials in Northern Virginia
Looking to drift away into serenity? Then leave your worries at the door and let one of our Master Aestheticians provide you an all-encompassing facial.
---
What is a Facial?
A facial is a multi-step skin care treatment to improve skin health with a relaxing touch. These steps will include skin analysis, cleanse, exfoliation, extractions, massage, masque, and moisturize. During the skin analysis and consultation, our Master Aesthetician will assess and review skin typing, conditions, and home care to determine what facial best suits you. We offer a variety of professional facials to choose from to ensure the appropriate facial is chosen for you and your skin health goals. Your Master Esthetician will also go over home care products and provide information on how to improve your home regimen as well as any concerns you may have about your skin.
---
What Are The Benefits of a Facial?
There are many benefits of the professional facials that we offer and each one addresses a different skin concern. Cleanse and exfoliation steps will remove surface dirt, debris, and dead skin cells that may be preventing the skin from maintaining a healthy glow or causing blemishes. These steps can also include extractions depending on the skin type that will help clear clogged pores and remove comedones for more oily or acneic skin types. Masques, Serums, and a Moisturizer will help replenish lost moisture in the skin to help with dehydration and dryness. These products can also contain ingredients to help with your skin concerns such as fine lines and wrinkles, pigmentation, dehydration, dry/oily skin and acne.
---
Facials NOVA Plastic Surgery Offers:
Fountain of Youth
An anti-aging facial to help combat signs of aging such as loss of elasticity and collagen, sun damage, rough texture, and dehydration. Products used will infuse the skin with ingredients to help firm, stimulate collagen, brighten and hydrate from the inside out.
Glow
This facial is great for hyperpigmentation caused by sun-damage and dull tired looking skin. It focuses on leaving your skin glowing with an improved skin tone and texture. An intense exfoliation will refresh the skin and brightening ingredients from masks and serums will saturate the skin for a long lasting illuminating appearance.
Blemish Defense
A deep cleansing facial to purify and decongest pores, perfect for blemish prone skin with stubborn breakouts. It will include a gentle but effective exfoliation, a soothing mask to calm inflammation and redness, and an appropriate serum with moisturizer to prevent reoccurring congestion and breakouts.
Unwind
Sit back, relax, and let our fabulous Master Aesthetician's work their magic. The Unwind Facial offers an elegantly soothing experience. This experience utilizes a variety of creams, aromatherapy, and oils that will not only moisturize the skin but also relieve stress and encourage peace of mind.
Redness Rescue
This is the perfect facial for sensitive skin or skin prone to redness. It will include a very mild exfoliation and focus on soothing the skin with cooling masks and serums. Redness in the skin will be soothed and calmed for an even and hydrated complexion.
The Gentleman's
Features a technique used specifically on men for the most comfortable and relaxing facial possible. Starting with a cleanse and exfoliation that will leave the skin smooth, polished, and refreshed, followed by a hydrating mask and finished with the correct serum and moisturizer for determined skin type.
Teen
This facial is a treatment best suited for young teens with blemish prone skin types, however it can be tailored for all skin types for any age.
Express
The perfect facial for someone on the go. This is a quick 20 minute treatment to cleanse, exfoliate, and moisturize the skin leaving you with a refreshed appearance. Great for all skin types as products used will be tailored to your needs.
---
What Are The Results?
Patients will notice maximum results when facials are received regularly. After one facial you can expect your skin to feel clean, detoxified and hydrated. Facials should be maintained once to twice a month to keep the skin free of dead skin cells and looking youthful. Home care can prolong and enhance the results of regular facials as well.
---
You are not a good candidate for facials if:
You are pregnant or nursing
Have history of keloid formation/abnormal scarring
Have used certain acne treatments within the past year
Are using certain hormone medications
Have a dark skin complexion
---
If you would like to book facials in Northern Virginia with one of our experienced Master Aestheticians, contact NOVA Plastic Surgery by calling (703) 574-2588.
Further Patient Information
5 Point Checklist to Avoid A Plastic Surgery Face Lift