---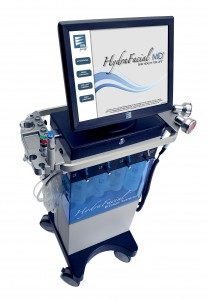 HydraFacial MD is a deep facial cleansing treatment that utilizes natural plant extracts, peptides, acids and earth minerals to deeply hydrate, nourish and energize the skin.
No part of the body is exposed to the elements as much as your face – UV rays, wind, smoke from cars, what we eat, make up, normal wear and tear – all fill your face and pores with toxins and debris. This can give you a dull tired look, making your skin sensitive to breakouts, blemishes and age spots.
HydraFacial MD Treatment Deep Cleansing Facial
Nothing cleanses your face like the HydraFacial MD treatment.
Cleanser and soap are good ways to keep our faces clean and cleansed but they do not go deep enough. This is where HydraFacial MD Treatment comes in.
HydraFacial MD is equipped with a Vortex-Fusion® Face serum delivery system, which sets it apart from other facial procedures.
The treatment consists of multiple steps:
Cleansing
Exfoliation
Extracting and removing impurities and dead skin cells
Replenishing vital nutrients including Antioxidants, Peptides, Earth Minerals and Hyaluronic Acid.
Thanks to the devices' superior delivery system, these performing ingredients are able to more effectively help mitigate environmental damage, reduce fine lines and wrinkles, and plump and firm skin for long-term results you can see and feel instantly. This videos shows you what to expect during a HyrdafacialMD treatment.
---
---
Face Serum
Key ingredients provide an added boost of hydration, antibacterial and anti-inflammatory benefits to help alleviate environmental and free radical damage.
The HydraFacial MD treatment provides a range of natural nutrients, including:
Honey extract
Algae extract
Yeast extract
Spirea ulmaria flower extract
Horse chestnut seed
Green tea extract
Arnica flower extract
Hyaluronic acid
Salicylic acid
Lactic acid
Glycolic acid
Earth mineral peptides
All of these incredible nutrients deeply penetrate the skin, providing a range of benefits to nourish and replenish the skin.
---

A Fast Effective Facial Treatment
HydraFacial MD is the one facial treatment that EVERYONE in our office has tried and LOVED, including Dr. Nukta.
The procedure:
Takes about 20 minutes
Painless
No recovery (except some redness that goes away)
Can be tailored to make it address your unique individual skin needs
Results are noticed immediately (our Medspa staff will show you what came out of your face into the canister)
Best results are seen in few days
Procedure can be repeated weekly, biweekly or monthly
Can be safely combined with other cosmetic procedures
If you reside in Virginia, Washington D.C., or Maryland, CALL US NOW for the most modern and effective facial treatment using the latest technology of HydraFacial MD and Face Serums.
---
Further Patient Information
Revitalize Your Skin with HydraFacial MD
HydraFacial Face Treatment for Energized Nourished Healthy Glowing Skin