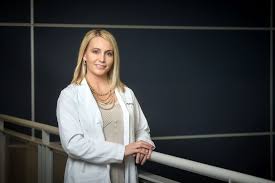 Sherri Anderson is a nationally board certified Physician Assistant. She graduated Magna Cum Laude with her Bachelors of Nursing from Brigham Young University in Provo, UT and went on to attain her Masters of Health Science from the George Washington University Physician Assistant program, which is consistently ranked in the top 3 PA programs in the country.
Sherri provides all of our Medical Spa cosmetic treatments including Botox, filler injections, and Kybella.  Sherri also performs all laser treatments in the office including Micro Laser Peels, BBL/IPL, and Profractional treatments. She was trained by Dr. Fadi Nukta and uses his expert techniques.  She continues to stay current with the latest advances in technology and injection techniques. Sherri is very knowledgeable on a broad range of cosmetic treatments and enjoys taking the time to really understand your concerns and help you find the best options for you.  
In addition to providing our cosmetic medical spa treatments. She is our in office "wound care specialist" offering suture removal services and providing patients with instructions on how to properly care for their wounds to achieve the most minimal scarring. She works very closely under Dr. Nukta to provide the best post-op care for all of our trauma patients.
Sherri is originally from New Mexico and has lived in the Northern Virginia area since 2011.  She enjoys running, travel and spending time with her husband and 4 children.