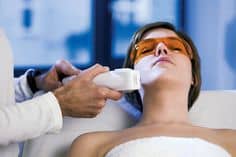 LASER RESURFACING IN NORTHERN VA: AFTER CARE INSTRUCTIONS
Things you will need: (Please purchase these items before your scheduled procedure)
1. SkinCeuticals Hydrabalm
2. 1 bottle of Hydrogen Peroxide
3. Gentle Milky Cleanser ex:  Cetaphil
4. Tylenol Extra Strength
You are to wash you face FOUR times a day. You will start your washes the day of your procedure.First wash will be with a mixture of equal parts Gentle Cleanser and warm water.The remainders of washes: will be with mixture of equal parts of Hydrogen Peroxide, Cetaphil Cleanser and warm water.Washes will continue until instructed to stop, usually around day five.
Washing instructions:
1. Pat face with clean with a 4×4 Gauze to remove as much of the HydraBalm as possible without rubbing the skin.
2. Apply Ponds Cold Cream to your face. Leave on for 15-20 minutes. (This is to lift the lubricant off the skin so it is easier to clean.)
3. While the cold cream is on your face start preparing the first cleansing mixture. Be sure to use tepid to warm water.
4. Cleanse your skin by dipping a gauze pad into the cleansing mixture and wiping the skin gently towards the hairline.
5. After each pass, clean gauze pad by rinsing under warm water.
6. Continue this process until the skin is clean.
7. Once skin is cleaned, pat dry with a gauze pad.
8. Apply a thin layer of HydraBalm to clean skin.
WARNING
The normal response to surgery is some degree of swelling. If however, you have excessive swelling or any of the following signs of infection, you should contact NOVA Plastic Surgery at (703)574-2588. Signs of infection include:
1.Drainage – that looks like pus
2. Increased warmth at or around the incsion area.
3. Fever of 101.5 or greater